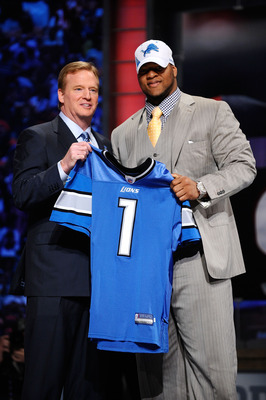 Whenever I type the name Ndamukong Suh, I do so fluently, without effort. I don't need to stop to check how to spell his name, and my spellchecker does not spaz out and start screaming at me that it's all just a bunch of damned gibberish. This is how spectacular a prospect Ndamukong Suh really is. By the time the draft arrived, writing his name was as easy for me as writing the name John Smith. I had added it to my word processor's dictionary and all was right with the world. All of this didn't happen in the days leading up to the draft or even the weeks. No, this all happened
months
ago, during that time when everyone assumed that Suh would be on his way to St. Louis and we would be left in our customary and all too comfortable role as the Disappointed and Tortured. That's how much I liked Suh. That's how much he means. On the slim chance that we would actually draft him, I made sure that I knew all there was about the dude, including the pronunciation, the spelling, the whole House of Spears thing, and of course, the otherworldly talent.
And that's what makes this dude so special. Everyone is busy trying to explain via scouting reports why Suh is a great talent, pointing to his explosion, his strength, his agility, his competitiveness, etc. Basically, the dude is the total package. Coming into the draft, people seemed to compare him to a young Albert Haynesworth, and his closest rival, Gerald McCoy, to a young Warren Sapp. Basically, Suh is that player who's going to dominate the line of scrimmage and collapse into the backfield, while McCoy, like Sapp, is more the guy who is going to explode towards the quarterback. The thing about that is, though, is since the draft, I actually saw someone - I can't remember who, if it was you, consider this a shout out - call Suh a
better
version of Sapp when it comes to getting to the quarterback. Well, okay.
That's incredible. Basically, this guy plays like an escaped vampire ape, bludgeoning all those who get in his way, owning the line of scrimmage so that others can get to the quarterback or make plays. Only, he's also the dude who makes the plays! He combines the best attributes of Haynesworth and Sapp into one colossal super beast. The term One Man Wrecking Crew has been used and abused so much over the years and it's so worn out that Jenna Jameson looks on it with pity. But when you look at Suh, suddenly that term seems fresh and new, like it was created just to describe him. Suh is not only a man, he is
the
man, and that is a very rare thing in this world.
And that's a thing that is almost impossible to describe using scouting reports. You have to start relying on contextual clues, things like people ranting and raving that Suh might be the best defensive tackle prospect in 20 years. But even that seems underwhelming. I mean, really, when was the last time a defensive tackle came into the league with this much hype? When was a last time that people not only believed, but
knew
, that a defensive tackle was the best player in the draft, the alpha dog, the star that shone the brightest, his hot white heat eclipsing every other star in the galaxy?
Okay, that was starting to get a little out of hand, and was veering into Dear Penthouse territory, but the question remains. When was the last time a defensive tackle came into the league with this much ridiculous hype? Well, since 1980, only four defensive tackles have been selected with the first or second pick in the draft. The two number one's, Dan Wilkinson and Russell Maryland, were both terrific prospects, but I don't remember feeling at the time like they were World Dominators like Suh. They were great talents, dudes who the scouts obviously loved, but there wasn't that sense that they were immediately the biggest dog in the room, that their mere presence was the center of everything else that went on, that they were now the Sun that the rest of the defense revolved around.
The two players taken with the number two pick were Darrell Russell in 1997 and Tony Casillas in 1986. I'm too young to remember what the hype situation was with Casillas, but I know enough about him - and remember enough - to know that he was a great player. But he was a great nose tackle, a dude who filled a particular role and filled it very, very well. He dominated the line and buried running backs. Suh seems like he's even more than that though, doesn't he? He doesn't feel like someone who's just going to eat blockers at the line and swallow up ball carriers too stupid to avoid him. He seems like someone who will, well, actually eat blockers and then gnaw on the bones of the quarterback for dessert. Again, he can be Tony Casillas, but he can also be Warren Sapp. He's not just an important cog in a complex machine, a player who performs a role so others can do their jobs. He's both the engine and the drill-bit of the machine. He's the point of the machine. When he's on, he
is
the machine.
Darrell Russell, meanwhile, was a fine prospect and for a while he seemed like he could end up being among the best in the league before he flamed out, but even at his peak, he didn't generate the hype that Suh has generated.
So, really, when is the last time a defensive tackle came into the league who has had people fawning over him like Suh? I mean, you've got to really start getting the DeLorean up to 88 mph to figure this out. Randy White? Joe Greene? Merlin Olsen!?
Yes, I am getting out of hand here and someone should probably break down the door and hose me down, but if you're going to work yourself into a lather, it might as well be this type, you know? It's the good kind of lather, the kind accompanied by a warm feeling in the gut, a happy feeling that makes you smile, it's the kind of stark raving madness that makes you not care that you sound like an idiot, the kind of fool nonsense that makes the start of the season feel like it's a million years away. It's excitement, man. Pure, unadulterated excitement, the kind that doesn't come around very often, the kind that never comes around for Lions fans. I won't apologize for it. No. It feels too good, too right, and just because I am currently pantsless and writing this with a massive erection doesn't mean that I should feel ashamed.
Okay, okay, I have gone too far again. The truth is, is that I am only partially aroused and am wearing a fine loin skin that was given to me by a Masai warrior after I saved him from a charging rhino. Adjust your mental images accordingly.
All that nonsense aside, the bottom line is that Ndamukong Suh is not only a once in a decade kind of player, or even a once in a generation kind of player, he's a once in a lifetime kind of player. And he's ours.
Anyone who watched the Big 12 Championship Game a few months back understands what I am talking about here. I have never, ever, in the entirety of my strange and sordid life, seen a single player dominate a game like that without the ball in his hands. It was absolutely incredible. Suh's stats for the game are staggering - 4.5 sacks and 7 tackles for loss, but even they don't quite express how dominant Suh really was in that game. I mean, Nebraska sucked. They were terrible. Meanwhile, Texas was marching towards the BCS Title game. Still, virtually all by himself, Suh almost won the game for Nebraska. He did everything he could to give his team a chance to win, and if they would have had even the rudimentary outline of a functional offense in that game, they would have won. They could have beaten any team in the country with Suh playing like that. That's how awesome he can be, how much a difference maker he is. Put him on your team and no matter who else you have, no matter who you
don't have
, you've got a chance to beat anybody.
That's the bottom line, the stark, naked truth of the matter, the one thing that stands above everything else, all the ridiculous numbers that have been floated since the end of the season, all the scouting reports, all the how does he fit questions. With him, you can beat anybody. That's it. That's really all you need to know.
Look, I recognize that I have gone a bit over the top here, but that's how much I like Suh. I could throw some numbers at you, the ones that everyone has seen by now showing how Suh alone put up comparable numbers to the entire defensive lines for Alabama, Texas and Florida, but sometimes numbers, even ones as impressive as Suh's, aren't enough. Sometimes you have to descend into the land of hyperbole and foam at the mouth with lusty madness to get the real essence of the story. Sometimes you have to listen to the wild street preacher, ranting and raving, in order to truly understand what's going on. Suh's numbers are amazing, but the way he makes me feel as a fan is even more amazing.
There are also people, inveterate cynics, who are already weeping and tearing their clothes and gnashing their teeth, screaming to anyone who will listen that Suh had a knee injury that kept him out of spring practice in 2008 - he never missed a game with this injury by the way, and never showed any ill effects following his recovery - and they will holler and scream about how he plays too high. This would be akin to bitching about the way that King Kong climbs the Empire State Building. "No, no, Kong. You've got to use your
legs
." No one else is getting up that fucking building, so shut up and just watch the dude climb.
There are also people who are just terrified, people who have been beaten for too long by The Fear, people who are too afraid too hope, people who are jabbering to anyone who will listen about how we shouldn't get our hopes up and what if? What if Suh isn't as good as we hope? What if his legs fall off? What if his is beaten and stuffed into a trunk by the Failure Demon? Oh Lord, what if? This is unfortunate and unconquerable except by time and success. I cannot convince these people to relax and have hope. Only Suh kicking ass and the Lions winning can do that. The good news is I think - obviously - that Suh will prove me right and prove The Fear wrong.
Look, you and I have both seen a lot of hyped Lions draft picks, but this one just feels different, doesn't it? Usually, there is that guarded sense of optimism, the
hope
that the player will end up being good. This time, I don't
hope
that Suh is good. I
know
that Suh is good, and the difference between those two feelings is immense, a vast chasm that almost can't be explained. It is the difference between the shadow and the light.
I have put myself out on a ledge with this post, but I don't care. Fuck it. Sometimes you've just gotta make your move, you know? I'm going all in with Suh and I might get burned because of it. That's alright. I'm not afraid.
Huh. I'm not afraid. I'm a Lions fan and I'm not afraid. Welcome to Detroit, Ndamukong Suh.
HOW HE FITS WITH THE LIONS
Suh will fill the role in this defense that Albert Haynesworth filled in Tennessee under Jim Schwartz. The thing is, though, as I have ranted and raved about like a loon in this post, is that there really isn't a comparable player to Suh. He's a unique beast, a weapon, a tool that can be used in a variety of ways. He can hold the point of attack, collapse the line, swallow up ball carriers and explode into the backfield to attack the quarterback. He's the total package, and as such, it's not so much about he fits with the Lions but about how they will find players to fit around him in the future.
WHAT IT MEANS FOR THE FUTURE
Well, obviously, as I just said, Suh will be the man the Lions build their defense around. I have no doubts about this. I might be a damn fool, and this could be my Waterloo, but this is what going all in means, you know?
WHAT IT MEANS FOR THIS SEASON
This is where things get a little tricky. Suh should start right away, and he'll probably fill the role that Corey Williams was brought in to fill, meaning that that tackle position is fucking loaded with talent. But he could also flex out to defensive end when the Lions want to go really big, providing the Lions with the possibility of putting both Suh and Williams on the line with Sammie Lee Hill.
Suh gives the Lions options. This season he might not just jump onto the field and start clubbing people like a coked out King Kong, but he should definitely be a very good player as soon as he shows up. With his versatility, the Lions can get other pieces onto the field at times without having to yank Suh. This is a critical thing for a team still trying to fill holes. They desperately need their best players on the field as much as possible, even if some of those players play the same position. Suh can move around on the line a little bit and give the Lions a chance to get all those players on the field.
This is just the beginning for Suh and for the Lions and while the beginning isn't always filled with honor and glory, it's a necessary stage and it carries with it its own excitement. Because at the beginning everything is new and open and wonderful and beautiful and anything and everything is possible. Possibility. That's what Ndamukong Suh represents and that's what this season is all about.