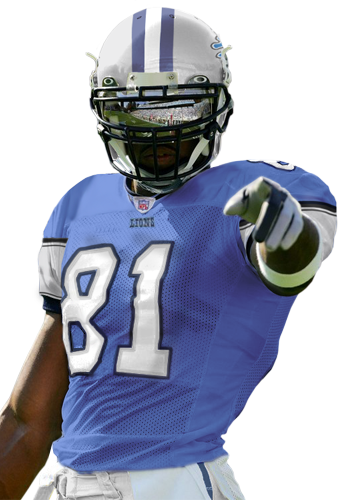 The one good thing we had coming into the season, the one thing that every other fan around the league was envious of, the one thing that made watching another loss somehow a little less painful, the one thing that allowed us to believe that hope was not just some cruel fantasy but a real and tantalizing possibility, was a man named Calvin Johnson. I dubbed the poor guy St. Calvin, shooting him into the stratosphere of Lions heroes that contains such luminaries as St. Barry Sanders, and, uh . . . well, that's about it.
Perhaps this was a bit unfair and a bit ridiculous. After all, St. Calvin has yet to make a Pro Bowl roster and he has done his best work for a team that has finished trapped under a garbage pile for the past couple of seasons. And yet, perhaps that accounts for my irrational exuberance. Here is a dude who is a legitimate blue chip player, a shiny diamond in a see of coal and turds. It is only natural that we would grab hold of that diamond and keep it near and dear to our hearts. It is precious, and it is the only good thing that we have.
Then again, perhaps my enthusiasm came from seeing a guy who is 6'5", can jump through the roof and who runs a 4.3 40. That will tend to get the blood going. I will not tell you where the blood is going because that would just frighten and disturb you, and because I am a man of utmost discretion and dignity.
Ahem. Anyway, my love for Calvin Johnson has been on display here too many times to count over the past couple of seasons. I have devolved into embarrassing and bizarre gibberish about Calvin being Dr. Manhattan and the real Shakespeare, rhapsodizing like a love struck retard in ways that should both sicken and confuse the normal folks out there. Thankfully, none of you are normal, and so you understand.(Insulting your readers is always a good idea, right?)
I predicted big things for Calvin before the season. Unlike my debaculous(yeah I just made up that word, and I don't give a fuck)Kevin Smith prediction, I wisely steered clear of making any concrete predictions about St. Calvin's statistics, but I did predict that he would take a step towards becoming the best receiver in the NFL. In retrospect, I should have just said "Johnson takes another step towards becoming the best receiver in the NFL", thus leaving it ambiguous. I could have claimed that I was talking about Andre Johnson and then fellated myself here, but that would have been dishonest and just plain wrong and I am a man of great integrity and so I have to live with the fact that I was clearly talking about Calvin Johnson, and that once again, I was terribly, terribly wrong.
In my defense, Johnson's relatively miserable year was more the result of freak circumstance than anything he did wrong. He is still a great player, and I think he will climb those steps towards the crown of the greatest receiver in the league sooner rather than later. It just didn't happen this past season. Johnson found himself beat up and injured almost from the moment he began practicing. A jammed finger limited his practice time in the preseason, throwing off his timing with Matthew Stafford almost before it could even be established. And then, once the season did start, Calvin found himself the recipient of a million minor injuries, breaking him down to the point where he was forced to miss two whole games - each sandwiched around the bye week - and chunks of several others. He was never one hundred percent, and aside from not being on the field during the games, he was missing a ton of practice too, further limiting his rapport with Stafford. I suppose the two of them could have struck up a real friendship in their adjoining hospital beds this past season, as they lay dying, but that is a depressing thought, and we have been through enough already and so we will not explore that possibility.
Johnson's numbers for the season weren't horrible, but they were nowhere close to what a top flight alpha dog receiver in the NFL should be putting up. For the season, St. Calvin caught 67 passes for 984 yards and 5 touchdowns. These numbers are depressed largely because Johnson missed two whole games, and large chunks of others, and so they shouldn't necessarily be construed as indicative of a decline in Johnson's ability or play. However - and isn't there always a however with this team? - there were stretches this season where it was obvious that Johnson was immensely frustrated, regardless of who the quarterback was. This is not a good sign.
I have written at length - yeah, when
don't
I write at length here? - about Lions Disease, that terrible affliction which grabs talented players by the throat and then sucks out their will to live until their withered and desiccated husks are shipped off to some other team or, worse, they just retire in a pool of tears and broken dreams. Its most famous victim is none other than St. Barry himself, who was martyred on the altar of Lions failure, but we have also seen it happen with Roy Williams and virtually every other highly talented player who has had the misfortune to land in Detroit. And so, I wrote this after the horrors of 0-16:
Catching 78 balls for 1331 yards and 12 TD's, with an average gain of 17.1 yards, Johnson became the all everything weapon that the Lions can build on. No matter how bad it got, and holy shit did it get bad, at least we had Calvin, and that's something we can take with us into next season. He's still young, he's headed into his third year and the sky's the limit. Sure, he still drops a few too many balls, but fuck it, I'm not gonna complain. That would be like a homeless dude bitching because his new free apartment didn't have air conditioning. The only thing that worries me, and really, I should say terrifies me, is the incredibly likely prospect of CJ getting beaten down by all the misery that comes with being a Detroit Lion and giving up. It's happened before, so it wouldn't shock me to see Calvin just say fuck it and go through the motions until he is traded. There have already been signs of it. There are times when the poor guy's body language looks like Andy Dufresne's in Shawshank. Again, it's happened before. I mean, this is a franchise that drove Barry Sanders to a tearful early retirement because he couldn't put up with all this ridiculous bullshit anymore. We broke one phenom's spirit, why not another?
Sure enough, there were signs this season that those hazy fears were materializing into a solid and terrible reality. Hopefully, Johnson can stay healthy and Matthew Stafford can keep him happy, because I don't know if I can take seeing another phenom ruined by Lions Disease. I've had enough of that bullshit. Thankfully, Johnson has what appears to be a legitimate quarterback here to throw him the ball for years and years and years to come. And if they both remain healthy and they both live up to their enormous potential, then the future here looks really, really exciting. Then again, this is the Detroit Lions we are talking about and so there is a very real chance that Stafford will break both his legs falling down a manhole while walking down the street and Calvin will have his legs eaten by wolves or rogue sewer alligators while out for a jog.
Also, one last thing. In that little excerpt up there, notice Calvin's numbers from the Year of Unnumbered Tears. You find them, yet? Okay. Just look at those numbers. Pretty damn great. And those came with ol' Noodle Arm, Dan Orlovsky, and the 300 pound Love Boat Captain, Daunte Culpepper, throwing him the ball! You can kinda understand where my ridiculous hope came from, right?
St. Calvin isn't the only receiver the Lions have - although it may often seem that way - and so I suppose we should look at the other turds, er I mean players, who the Lions threw on the field this past season.
Bryant Johnson was signed prior to the season in the hopes that he could be an effective complement to St. Calvin. I immediately dubbed him Johnson the Lesser, but that was not really a knock against Bryant Johnson so much as it was an affirmation of Calvin Johnson's greatness. After all, Johnson the Lesser was a former first round pick in his own right who had proven to be a fairly effective possession receiver during his six seasons in the league. He probably wasn't an ideal number two receiver, but what the hell, he was better than Keary Colbert, John Standeford, the bum from down the street, and everyone else the Lions had.
Against Washington, it looked like Johnson the Lesser would provide a capable number two for the Lions, developing a rapport with Matthew Stafford that hopefully presaged better days ahead. But after that, he did basically nothing the rest of the season. Seemingly every game, he would catch two passes and that was it. Seriously,
check the game logs.
The consistency of his mediocrity is almost astounding.
For the season, Johnson the Lesser caught 35 passes for 417 yards and 3 touchdowns, bad numbers for a number two receiver - horrible numbers for a number two receiver on a team that has to throw the ball all the time because they are constantly behind - and absolutely abominable numbers for a receiver who is the number one dude for a quarter of the season because the normal number one dude is hurt. Basically, Johnson the Lesser was much, much lesser, and the result was a passing game that completely atrophied as the year went on. Sure, sure, much of this is due to the premature death of Matthew Stafford's poor body, but at least part of the blame has to be put on the receivers, and especially Bryant Johnson, doesn't it? I mean, this was his chance to take the reins and show everyone that he could drive this motherfucker. But instead, he just crashed the son of a bitch and then wandered away in a daze while we all shielded our eyes in horror.
Aside from Johnson the Lesser, the Lions decided to bolster their ailing receiving corps by trading for Dennis Northcutt, who like Johnson the Lesser, had found a niche as a possession receiver. Northcutt was put in the same position when he arrived in Detroit and he responded by having one of the worst seasons of his career, catching 35 passes for 357 yards with one touchdown, and a paltry 22.3 yards per game. Again, Northcutt was saddled with many of the same issues that Johnson the Lesser had to face - inconsistency at quarterback, a general offensive malaise, etc. - but he compounded these issues by dropping too many passes and by not responding well at all when he was thrust into the position of the number two receiver when St. Calvin came up lame.
The Lions also drafted Derrick Williams before the season, and I - along with most others - immediately sniffed him out as a potential bust. Never a really natural receiver, and not a true speed burner, Williams had gotten by in college as an elusive possession receiver who knew how to make people miss. He had a fine career, albeit a slightly disappointing one given the hype that surrounded him as a freshman. I thought he had a chance to contribute a play here and there, as well as frustrate us with his inability to hang onto the ball. Of course, all that was contingent upon him seeing the field a lot, which, well . . . let's look at his stats. Williams only caught 6 passes for 52 yards, and was barely there for most of the season. It's hard to envision him taking a great leap forward in the future, and sadly, I think his future probably resides in selling carpet or making widgets or lying dead in a ditch somewhere. Who knows?
I would love to say that a surprise player stepped up in the midst of all that disappointment and gave us some hope for the future, but that's it man. There was no one else. Okay, there was Yamon Figurs and there was John Standeford, but I don't think their one catch each qualifies as exciting and/or hopeful. The receiver play this past season was shockingly bad, and not to sound like a broken cliché, but while a lot of that has to be on the general ineptitude of the offense and Stafford's traitorous body, a lot of it has to be laid at the feet of this gang of fools, doesn't it? I mean, at some point you just have to step up and make a fucking play, right? No one did, and that's the story of the season for our beloved receivers.
The tight end position was in a similar state of upheaval virtually the entire season, starting again before the season even started, when first round draft pick Brandon Pettigrew was injured during practice. This obviously set back his development, which was especially a problem because there were a lot of fans out there questioning his selection in the first place. Okay, to be perfectly honest, a lot of fans were outright pissed off that he was drafted over Michael Oher and Rey Maualuga.
When Pettigrew did get back on the field, however, he showed quite a bit. He looked exactly how he was described, as a player who could serve as an effective safety valve for Matthew Stafford, someone who would never be a down the seam deep burner, but someone who could move the chains when you needed him to. In only 11 games, as a rookie, Pettigrew caught 30 passes for 346 yards and 2 touchdowns, including the uber-memorable game winning catch against the Browns. I was encouraged by what I saw, and I think it presages better things to come.
Of course, this being the Lions, all that is contingent upon how well Pettigrew recovers from his knee
exploding like that dude's head in

Scanners

.
Indeed, Pettigrew's season was unceremoniously ended against the Packers in week 12, and his absence was felt throughout the rest of the miserable season.
And why was that? Because, well, the other tight ends the Lions had kinda, sorta sucked. Will Heller was brought in from Seattle to be the second tight end, a blocking dude who wouldn't figure into the passing game all that much. But with Pettigrew hurt, Heller found himself trying fill that safety valve role and it just didn't work out. For the year, Heller caught 29 passes for 296 yards and 3 touchdowns - not horrible numbers for a number two tight end - but what they don't show is his obvious lack of athleticism and his inability to be the chain moving weapon that Pettigrew appeared to be. Now, that's not necessarily Heller's fault. I mean, after all, he wasn't brought in to fulfill that role, but come on, if you're going to be a pass receiver in the NFL it's probably best that you don't have the stiffness and foot speed of Frankenstein's monster, you know?
Of course, Casey Fitzsimmons was also around, because Casey Fitzsimmons is always around. He did what he did every year, catching a few passes - 18 to be exact - and looking at times like he could be a weapon while reminding us most of the time that he would never live up to his apparent potential. It's one thing for a dude to be a prospect and a sleeper ready to break out as a rookie or second year player, it's quite another for this to be the case in his seventh season. That's right - SEVEN. Fitzsimmons has been here seven fucking years, and he has never caught more than 23 passes - which he did as a rookie by the way, thus sparking all this bullshit about him being a real prospect - a problem when his one skill is, you know, catching the ball.
With Pettigrew out, Heller trying futilely to replace him, and Fitzsimmons wandering around Fitzsimmonsing it up, the Lions were forced to activate seventh round pick Dan Gronkowski from the practice squad, a move which was soon followed by wishing Gronkowski well in his future endeavors. The team then brought in Jake Nordin, who finished out the season with the team, but didn't really do much to identify himself as anything more than a warm body, which is okay if you are trapped in the mountains, but not such a good thing in this case. I'll leave you fine people to write your own stories about being trapped in the mountains with Jake Nordin, because if I start down that road, thing will get, uh . . . well, I'm sure you can figure it out.

WHAT DOES IT ALL MEAN FOR THE FUTURE?
I think the key pieces are in place for a solid passing attack. Getting Stafford, St. Calvin and Pettigrew healthy together for a whole season will go a long way towards assuaging a lot of the fears about this area of the team. All are obviously very, very talented, and the Stafford to St. Calvin hookup could be absolutely magical.(I mean in terms of the passing game, obviously, not a hookup in the sense that they, well, you know . . . never mind.)
Unfortunately, the situation beyond that trio is pretty wretched. Johnson the Lesser was pretty much a failure in his first season and everyone else was a dud too. The Lions need to find an effective complement to St. Calvin, someone who can make teams pay for double and triple teaming him. Johnson the Lesser does not appear to be that guy. Maybe the Lions can get lucky in free agency, or grab a gem somewhere in the draft, but given the extreme needs elsewhere, I'm not sure how high a draft pick they are willing to spend on a receiver. There's a good chance they take one somewhere in the draft, but there's a good chance it would be a developmental type prospect, and not someone who can step in and help right away.
Maybe Derrick Williams can get it together, but even then, his destiny probably resides at the slot position and not at the number two spot. Maybe Aaron Brown can slide out to the slot and give the Lions some help here, but again, it doesn't fill the hole on the side of the field opposite St. Calvin. As the offseason unfolds, I am sure that options will open up and we'll get a vague idea of who will be that dude, but for now, I just don't know, and that kinda sucks.
At tight end, Pettigrew is obviously the man - if his knee heals, that is - but behind him, I wouldn't be surprised if the team brought in a whole new slew of bodies to compete for the backup job. Ideally, they would get someone who could provide some solid in-line blocking.
There is a long way to go before next season, and right now, the theme is unfortunately kind of the same as it was this time last season: Help us Calvin Johnson, you're our only hope.