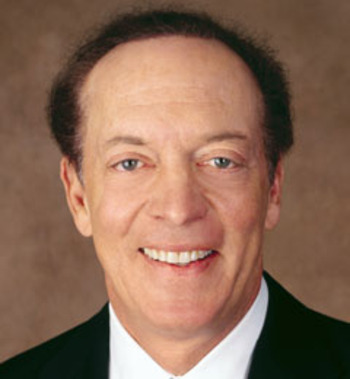 The terrible face of madness.
The following was taken from the journal of an intern on his first assignment for Fox Sports. The details are grisly and not for the faint of heart, but in the spirit of truth we were able to bribe a transsexual hooker named Candy Kaine to swipe the journal from the unnamed intern's room. Don't ask what we bribed him/her/it with, and just be happy that finally, the world can know just what Dick Stockton is all about.
I barely managed to knock on the hotel room door without spilling the coffee, which was balanced in my arms along with a copy of the New York Times, a fresh Danish pastry, and a file folder filled with research I had accumulated for Mr. Stockton. There was no response, so I knocked again. This time I almost dropped the Danish and the file folder. Still no response. I knew that Mr. Stockton liked to sleep in thanks to a few quick words with a former intern, but it was nearly one in the afternoon, and I figured he would be up by now. I remembered the words of the intern: "Never wake Dick up. He'll do everything in his power to ruin your life." When I asked the intern what I should do in the event that Mr. Stockton was sleeping, he just slammed down the phone, spat at the protective glass, laughed and had a guard lead him back to his cell. I had heard stories, stories about interns hiding balloons filled with heroine in their anuses at airports, stories about lives ruined, dreams shattered, minds broken, but until that day at the prison they were just stories.
I knocked on the door again, harder this time, after making sure all of my gifts for Mr. Stockton were safely secured in my arms. What the hell, right? The only thing that I could do was make sure that I did everything to the best of my ability. Whether or not Mr. Stockton liked me was up to him. We were both professionals with a job to do, and I was going to do mine well.
I could hear a faint groaning from somewhere behind the door. A few long moments later, I heard a chain slide and a lock open, followed by the door creaking slowly open. An aged, unshaved face poked its way into the hall, accompanied by the faint aroma of stale vomit and old cigarette butts. A pair of beady, blood red eyes peered out from underneath raised eyebrows. The bags underneath those same eyes looked like they could hold a set of golf clubs. He looked wary and unwelcoming, and I knew that I had already started our relationship on a bad foot, but I pressed forward anyway. After all, I had a job to do.
"Mr. Stockton, sir," I managed, as I shuffled around the contents in my arms enough so that I could extend a free hand. Mr. Stockton snorted back what sounded like a head full of phlegm and then coughed for a solid minute. He then spit up what appeared to be a combination of snot and blood. He eyed the coffee in my hand, and then just sort of grunted and opened the door.
He was naked, and he didn't bother to hide his shame. His shriveled old member just sort of hung there like the limp corpse of a dead turtle, its feeble little head poking out, flat and useless. He staggered back to his bed and collapsed. He farted, and the room suddenly smelled like rotten eggs. It was a vague improvement.
"Coffee. Now," he grunted and I set the Danish, the file folder and the New York Times down on a table next to a crumpled up empty pack of cigarettes, several "used" tissues and an empty pint of Jack Daniels. I handed the coffee to Mr. Stockton, who sat up and took a hefty sip.
"Jesus Christ!" he spat. I winced as he gritted his teeth in obvious anger. "This shit is cold." He shook his head in disgust and then threw the coffee in my face. I just managed to duck – which I had been warned to do by the intern – and then tried to compose myself. By then, Dick had already moved onto the New York Times, which he was tearing through and then discarding, page after page, tossed around his room.
"Shit, garbage, liberal tripe," he spat with each page, growing progressively angrier. "What? They didn't have a copy of The Journal?" He belched and then held his stomach before lying back down for a moment.
"The Journal?"
"The Wall Street Journal, fuckhead," he managed in between bouts of savage coughing. "You think I give a shit about some Mongoloids in Darfur? I just wanna know what the market's gonna do. I don't need Lesley up my ass 'cause I let that shit slide again. Word of advice, kid, don't ever marry a broad who went to college. " He shook his head in disgust. "Think it makes 'em so smart, think it makes 'em equal, like they have a say in what you do with your own hard earned money. Shit, woman, if I wanna drop a few thousand on a greyhound on horse steroids or a coked up stripper named Daisy, that's my business." Mr. Stockton laughed and then adjusted his testicles. He groaned and, then, with a twinkle in his eye, he mimed jacking off in my direction. I turned away and wondered what to do next.
"Shit," he spat. "Too late now. What else you got there?" He already had the file folder in his hand before I could stop him. He flipped it open and laughed. "What the fuck is this horseshit?"
"Notes," I managed. My voice sounded squeaky and weak and Mr. Stockton just looked up and sneered. "For the game," I continued.
"Game?"
"The Lions and Giants?"
Mr. Stockton laughed. "That piece of shit? What's to know? Lions are dogshit, Giants are coached by Parcells, blah blah blah." He waved a dismissive hand and then spat in my direction. I deftly avoided a wad of snot and blood and decided to go on the offensive.
"Mr. Stockton . . ."
He laughed, ominously. "Call me Dick," he said, spreading his legs and pointing his shriveled old penis in my direction.
"Okay, Dick, here's the deal. You gotta a game tomorrow, and I think that . . ."
Dick sprang from his bed with a ferocity that surprised me. He was on me in an instant, pushing and poking me in the chest. His hot breath smelled like death, and his skin up close looked like it was rotting from the bone. I backed away from him, frightened of his Favre like member, until I stumbled over a chair and tumbled backwards to the floor, where I landed next to a pile of crumpled up cigarette butts. Dick just laughed. "That's what you get for thinkin'" he said. He stepped over me, and I could see directly into his taint. I now no longer fear death.
"Boy, you gotta lotta nerve wakin' me up on my day off and feeding me this pile of tripe. I'm damn near 70 years old!" he bellowed. "You think I don't know how to do my job? Huh? I called Carlton Fisk's home run in the Series back in '75. I called a hundred Troy Aikman touchdown passes and I got high with Michael Irvin and balled a gaggle of sweet Texas hookers and that was all just one week in 1996. Goddamn, you think I need your help?"
I made sure that I was breathing and I began to furiously scan my mind for answers. "I know you're a professional," I quickly managed. "And I know you're good at your job. I just . . . I just wanted to impress you."
Dick stood above me and he sneered with contempt. He shook his head and then he just laughed and walked away. "You're lucky I gotta take a monster shit," he said, and I just closed my eyes and then exhaled deeply.
I sat up and tried to ignore the sound of Dick defecating. The smell was intolerable and I almost vomited. I made my way towards the door.
"Where the hell you going, you pussy?" I looked, and much to my surprise, the door to the bathroom was wide open and Dick was perched on the toilet, his face a mixture of pain and ecstasy. He grunted and there was a terrible splash. I tried not to look but I was struck dumb, turned to stone like I had just stared into the eyes of some modern Medusa.
Dick laughed. "Get a good look?" he spat. He spread his legs on the toilet and then began to waft the smell of his rancid turds in my direction. I began to vomit in my mouth and then I forced myself to flee the room. I could still hear Dick laughing behind me as I fled down the hall, looking for somewhere, anywhere, to deposit my sick.
I was now sweating, my suit drenched with a combination of fear and panic and I knew that it wouldn't be long before I was vomiting all over the floor of the hallway. My eyes darted back and forth until finally I saw what I was searching for. It wasn't ideal, but it would have to do. I whipped open the icebox and I quickly vomited. I finished, slammed the ice box shut and then wiped my mouth with the sleeve of my suit coat. I cursed my own carelessness, took off the suit coat and stuffed it into the ice box, covering my vomit. It was ruined anyway, and I never wanted to see it again. I rolled up the sleeves of my white dress shirt and I staggered back down the hall.
"Hey, boy! Where the fuck are you?" I could hear Dick screaming, but I didn't know if I could go back in. The intern at the prison laughed when he saw me, told me that Dick would eat me alive because I was soft. I thought it was just hyperbole, but now I knew that my Ivy League diploma was just a piece of worthless paper and that the real world was harsh and cruel and I was just a boy. I was determined, though, to prove myself a man.
I walked back into the room, full of forced bravado and I walked up to Dick, still on the toilet and I punched him in the face. Dick just sat there in stunned silence, his lip bleeding and then he laughed, an uproarious laugh that was both cruel and malevolent.
"So, boy's got some balls after all," he managed. He coughed and shook his head, and when he did, another round of feces flew out of his aged, wrinkled old body. "Well, good for you." He looked at me, and then his eyes went hard and cold. Before I knew it, he was on top of me, having sprung from the toilet with an evil howl. I tried to breathe but his forearm pressed across my throat made it impossible. I could feel his dirty bottom rubbing against my legs and I had to will myself not to vomit.
"You give?" he said? I tried to respond, but nothing came out except for a gurgle. "You give?" he repeated, as he dipped his head closer to my face. A string of bloody snot hung from his nose and I vigorously nodded my head before it could drop. Dick just laughed and then got off of me. He didn't bother to wipe his ass and then he just staggered out of the room and collapsed in his bed again.
I sat up, and had to remind myself how to breathe. I was on the verge of a full blown panic attack and I had to ignore the terrible smell or else I was going to vomit again. I crawled back to my feet and scrambled to the sink where I turned on the faucet. I splashed some water on my face, stared into the mirror and told myself to get a grip. I sighed and turned off the faucet and I walked back out into the room, as confidently as I could manage.
"Boy," Dick greeted me, "you got shit all over your pants." He helpfully pointed this out and I felt my shoulders slump with defeat when I looked down and realized that yes, they were streaked brown. Dick just laughed while I looked around and wondered what to do next.
"Take 'em off," Dick barked and I felt myself back away. Dick just sneered in disgust. "It ain't like that, you fuckin' fairy. I just can't deal with a man who has shit all over the front of his drawers. Makes you look weak, like some sorta bitch. 'Course, you are my bitch, but still, I'm a professional, and I demand that the people I work with be professionals. Take them nasty drawers off and I'll see if I can't find you an extra pair around here to wear."
I robotically obeyed, willing to do whatever it took to get through the rest of the day without incident. Once they were off, I just stood there and wondered what to do next, but Dick was one step ahead of me. He tossed me a black book, and then ordered me to take out my cellphone, which I had to fish out of my freshly shorn pants. "Look for the words New York and just start dialing numbers," he said. "We're gonna get us a couple of fresh whores."
I sighed and decided to take one more shot, even though I knew it was useless. "You think, maybe, that we should study some game tape or go over some notes?"
Dick exploded out of bed. I thought he was going to hit me but he raced right past me towards a plastic bag on the table. He pulled out an almost comically oversized bottle of cheap vodka – Popov – and opened it up. He guzzled straight from the bottle for what must have been five seconds and then slammed the bottle down on the table, causing a splash of vodka to spill onto the table. Dick just sneered, produced a straw and then snorted the spilled vodka. He looked up, tears in his eyes and then he roared – he literally roared – and belched. "There's your fuckin' preparation," he said. He staggered in my direction. "I been doing this shit for 40 years you pissant. I watched Kenny Stabler piss on a cokewhore in Oakland and then I helped him beat the shit out of her Hell's Angel boyfriend when he walked in on them. And the next day, Kenny threw for 300 yards and 3 touchdowns and I called a perfect game. And what the fuck was that fat bastard Madden doing? He was just lounging on the sideline like some dumb gorilla, watching the whole damn thing. That fat fuck and his bus and his turkey legs and his goddamn telestrator. Let me tell you, boy, I didn't need any of them fancy ass gimmicks. I'm Dick fuckin' Stockton. Madden's a Hall of Famer? Fuck him. I'm the A team. Me!"
I didn't know what to say, and I just watched in horror as he finished ranting. "That fuckin' prick, Sumerall, that senile old goat. Fuck him. I'm almost 70 years old and I still talk circles around his drunk ass. Motherfucker can't hold his liquor. And that little pissant, Joe Buck? That fuckin' daddy's boy. He's the A team? He and that concussed queen Aikman? Fuck them. I'm Dick Stockton. I don't deserve this shit. I'm Dick Stockton! I'm married to Lesley Visser. I double teamed her with Stabler, and he let me keep her. And you know why? 'Cause I'm Dick fuckin' Stockton!"
Dick staggered. His face was all puffy and red and his breathing had become ragged. "Make the call, boy," he said, nodding towards the black book. "Make the fuckin' call."
I opened the book and I found a series of numbers under the heading New York. I dialed the first one and then Dick collapsed. He began to go into convulsions and I could feel my own heart racing. I dropped the phone and I raced out of the room. I should have just dialed 911, but I was out of my own head, and so I just pounded on random doors, looking for help from anyone. No one answered until finally, a door popped open, and I was met by the friendly, confused face of a man I recognized as Charles Davis.
"Charles, Charles," I managed, grabbing the confused man by his shirt. I knew that I looked like hell. I was missing my pants, my dress shirt was soaked through and I wouldn't have blamed him if he kicked me out and called the cops. But Charles just stared at me, his eyes dull and confused. "You gotta help," I said. "It's Dick. He's passed out."
Charles' eyes went wide as he slowly processed this information. "Mr. Dick is sick?"
I nodded. "Yes. Mr. Dick. I think he's having a seizure or a stroke or something."
Charles shook his head. "Mr. Dick is my friend."
"Well, we need to help him," I said.
Charles smiled. "I get Mr. Dick his medicine." He just stared at me for a moment and I panicked and sort of pushed him back into the room. This seemed to get him moving and he soon emerged with a vial of white powder.
"That's Mr. Dick's medicine?"
Charles smiled proudly. "Yup. Mr. Dick says that I'm his doctor and I gotta keep him safe, in case the police men decide to search his room. Mr. Dick says they'll be lookin' for candy – nose candy, whatever that is – and that if I keep his medicine safe for him, he'll introduce me to some pretty girls."
"Jesus," I said, my voice tinged with wonder. "You're an idiot."
Charles looked like he was going to cry. "My momma says that it just takes me a little longer to get where I'm goin', but that when I get there, I still look handsome and sweet." He smiled, proud and I just shook my head and grabbed him by the hand. He followed willingly as I dragged him back to Dick's room.
Back inside, Dick was still convulsing. I took the vial of white powder from Charles and I held it under Dick's nose. Dick began to snort and then went still. After a few tense moments, he exploded back to his feet and reeled around the room. "Jesus!" he screamed. "Fuck! Where am I?"
"Charles!" I yelled. "Grab Mr. Dick and hold him down." Charles stared at me blankly. "I'll buy you some candy if you do what you're told." Charles' face lit up with a smile and he bounded over to Dick. He grabbed him in a giant bear hug and then wrestled his old, naked shriveled body into a chair.
"Charles," Dick managed in between ragged breaths. "Thank God you're here. This man was trying to kill me." Charles looked up at me, his eyes wide with wonder and rage and then he leapt at me. I didn't stop to explain. Instead, I just ran, back down the hall, while Charles chased after me. I ducked inside of an empty elevator and I must have gone up and down a dozen times before I felt like it was safe to come out. I stopped the elevator on the floor beneath Dick's just to be safe. I crept out into the empty hall and then I scampered towards the stairs. There, I crouched in the staircase and I wept. I sat there for probably half an hour before I started to stagger back up the stairs. I would have to deal with Dick or else I was out of a job, and in this economy, I just couldn't risk it.
I poked my head out into the hall, and seeing no sign of Charles, I ran to Dick's room. I pounded on the door, and waited. "Goddammit, Dick, let me in!" I furiously whispered. I could hear giggling behind the door and a moment later, the door swung open to reveal a redhead with giant breasts and with a dildo strapped onto her crotch. "Yeah, whatya want?" She smiled and I could hear Dick cackling maniacally from somewhere in the room.
"Dick," I said, brushing past the hooker. "We need to talk." Before I knew what had happened, Dick was rushing out of the bathroom, still naked and spraying mace in my face. I was blinded by pain and I collapsed onto the floor while the hooker took my shirt off.
"Goddamn, we gonna have some fun now," I could hear Dick saying, over and over again. I tried to crawl away, but the hooker stepped on my back with her high heels, sending slivers of pain shooting throughout my body.
"I'm gonna have to teach you how to relax, boy," Dick said, and then everything went black.
When I awoke, I was tied to a chair. My boxers were still on but that was it. I looked around, my sight still blurry from the mace, and I could just make out a giant figure sitting on the bed across from me. "H…h…help" I croaked. My throat was sore and my voice sounded like Harvey Fierstein's after [redacted due to gross indeceny.]
"Uh-uh."
"Please," I managed to spit out. I had to fight the urge to sob. I knew that crying would only hurt my eyes even more.
"Mr. Dick says you been bad."
"Charles? Please, Charles, you have to let me go. Mr. Dick, he's not a nice man."
Charles inhaled deeply and leaned forward. "Mr. Dick is my friend," he said, his voice innocent, belying his menacing presence.
It was then that I heard it. A chainsaw. From somewhere in the distance. I could hear a woman scream and then the sound of people running down the hall. "Charles, please," I managed, my voice racked with fear and anguish, "there are lives at stake here."
Charles just shook his head. "Mr. Dick said you'd say that nonsense. He said you'd try to keep us from goin' to the football game tomorrow 'cause you're a bad man and you hate America. I like football."
"I like football too," I said. "That's what I need your help, so that we can get Mr. Dick ready to call the game. He's not . . . he's not prepared, Charles."
I was answered by a knock at the door. "Hotel security!"
"Oh, thank God," I mumbled. "Answer the door, Charles."
Charles smiled. "The police man is here!"
"Yes, Charles, the police man is here."
"Mr. Dick said they'd be comin' for you, 'cause you made a mess in the ice machine."
I couldn't take it anymore and I began to sob. "Charles," I managed. "You gotta help me. Please."
But Charles was already on his feet and opening the door.
"Jesus Christ," one of the security guards spat. "You goddamn degenerate. If it wasn't for Mr. Stockton, we wouldn't have found this in our ice machine." The guard tossed my crumbled up ruined suit coat in front of me. "We also found what looked like vomit." I recoiled as a sudden punch landed in my ribs. This was followed by another one, which caused me to spit up whatever was left in my stomach. "Jesus," he spat. "You just don't learn." This was followed by another punch to the ribs and then one to the jaw, which immediately cracked. I could feel the ligaments tear away from my face and I tried to scream out in agony, but what came out sounded more like the ravings of a deaf mute than the impassioned plea for help and mercy that I intended.
The security guards both laughed and I could hear Charles guffaw in the background. The second security guard then began to untie me, and I waited, like a wounded animal, and then when I was untied, I pounced, feral and mad with rage and pain. I punched the security guard in the testicles and then I leaped forward and bit the other guard's nose off of his face. He howled in pain and then I began to run. I could hear Charles screaming and sobbing behind me. He was terrified and I couldn't say that I blamed him. He was an idiot, a manchild, and he was caught up in something horrible and ugly. He was being corrupted by his precious Mr. Dick even if he didn't know it. A part of me wanted to help him, but a larger part of me hated him for his role in all of this and I decided to leave him to his fate.
I ran, and I didn't stop running until I was outside, in a back alley. Night had fallen. I collapsed in a heap and I began to dry heave. I thought I could hear the faint sound of cackling coming from up above, but I dismissed it as post traumatic stress and I buried my head in my hands. The cackling grew louder and I finally looked up, miserable and at the edge of insanity, only to see Dick hanging out of a window, covered in blood, laughing at me. He then dumped a waste basket out of the window and I moaned and crawled away as a basket full of feces rained down all around me. I wanted to cry but there were no tears left.
I later was found by a pimp named Tyrone, who beat me and forced me to live in a doghouse for several days. He kept me on a chain and forced me to watch as Dick Stockton and Charles Davis called the Giants win over the Lions. It was obvious that neither man had any idea what they were talking about but by that point, I didn't care. I briefly wondered how Dick had managed to escape the hotel without being arrested, but I remembered something that the intern had told me: "Dick is a celebrity. A minor celebrity, but still a celebrity. He is immune to the laws of man and nature. He is a force of pure evil, and he cannot be defeated by mortal means. He will haunt you forever, and if you are lucky, you will die within the first several hours." Indeed.
Tyrone doesn't know about this journal, which is my last refuge, my last plea for help. I was destroyed by Dick Stockton. My soul is vacant, my conscience void. My only hope is that I will be found by some merciful soul and killed, and then I can cease to exist, free of the memory of the malevolent spirit from hell known as Dick Stockton.