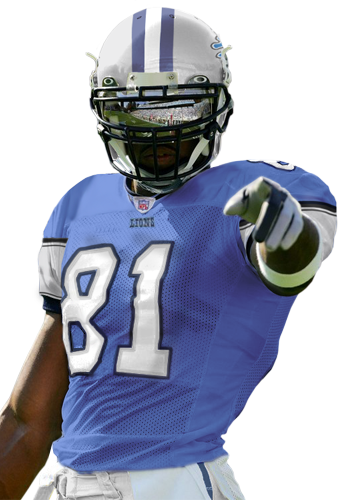 Okay, so I'm kinda cheating a little bit as I reach the end of this draft review debacle, but that's only because I don't really see the point in talking about players I've already talked about a bunch of times, none of whom are particularly interesting. Well, I guess the Drew Stanton entry might be kind of worth doing, but that's only because my irrational disdain for poor Drew would only result in me running on like a jackass for a few paragraphs about why I think he isn't the dude again and will never be the dude despite everyone else in the state of Michigan having wet dreams about him. And, well shit, I've started doing that already despite myself, haven't I? Fuck it, let's just move on.
Anyway, I'll just focus on the two first round picks from the 2006 and 2007 drafts because they are probably my two favorite players on the team and I kind of want to write about dudes I like for a change instead of ranting and raving about hollowed out collarbones and piano playing quarterbacks and Grendelish front office types.
With their first pick in the 2006 NFL Draft, the ninth overall, the Detroit Lions selected Ernie Sims, a linebacker out of Florida State. For the first time - and the only time - in the apocalyptic reign of Matt Millen, the Lions took a defensive player in the first round. Right away, there were questions about Sims from long suffering Lions fans, primarily focusing on his lack of size. I remember more than one person bitching to me that they picked a midget linebacker. Hell, I probably made a couple of jokes too, but that is just my nature. The truth is I was pretty happy with the pick. Sims was - and is - a highly athletic superball who if properly aimed can blow up an offense. He's capable of being an incredible difference maker. I mean, he was rated the number one high school prospect in the country in 2003, coming in just ahead of Reggie Bush. So, that's the type of upside we're talking about here.
Sims stepped into the starting lineup right away, and over the short course of his professional career he has been the one player worth anything in the Lions back seven, and after the departure of Shaun Rogers prior to the Season of Unnumbered Tears, Sims was pretty unquestionably the best defensive player on the team. Of course, that dude who played Corky on
Life Goes On
would have been the best player on that woeful defense, but we will let the slide in favor of aggrandizing my man Ernie Sims.
But aside from Sims' obviously prodigious talent, he also seems to be a pretty weird and awesome dude. Ernie likes lizards. Lots and lots and lots of lizards. He has basically turned his home into a zoo for the little beasts, along with a bunch of dogs and spiders and all sorts of animals. I call Ernie Sims the Lizard King and I don't care how fucking lame that is, that is his name to me. And the Lizard King is the only player on that whole damn defense who I have any sort of rooting interest in aside from the uniform they happen to be wearing. In fact, most of those turds inspire nothing but loathing and a vague sense of nausea so my devotion to the Lizard King is all the more acute. If I could save one player from this team in a Noah's Ark type situation it would be Ernie(well, aside from St. Calvin, but we are getting to him). Yeah, yeah, this is getting fucking bizarre. I know. But damn it, I have so very little as a Lions fan, and so the very few things that I have to be proud of, I'm
really
proud of.
Sure, Sims sucked last year, but so did everyone else, and I blame most of that bullshit on the coaches being idiots and on an otherworldly level of frustration that must have been pure torture for the Lizard King. He was undisciplined and tried to make every play himself and ended up making no plays, and well, that shit will happen when everything is going crazy and people are swan diving out of the upper deck and players are committing
hari-kiri
on the sideline. I mean, as a fan it was awful, I can only imagine the pain that the poor noble Lizard King had to endure while his kingdom went to shit around him.
But, as much as I love the Lizard King, nothing can compare to the devotion I have - along with every other Lions fan - for the Lions first round pick in the 2007 NFL Draft, the second overall, a certain Calvin Johnson, a wide receiver out of Georgia Tech.
What Calvin Johnson means to the Detroit Lions and to its fans right now cannot be overstated. In the middle of this hellstorm, amidst all the folly, all the laughter, all the tears, all the insufferable bozos and dipshits, Calvin Johnson is the one good thing, the one untainted thing, that we have as Lions fans. He is the best wide receiver prospect in the NFL and he has the potential to be the best player period. It is astounding that he is one of ours. We are like horrible crack mothers with seventeen children who all end up being thieves and whores only to have the youngest kid turn out to be a goddamn genius. We barely know what to do with ourselves, but we will stab any motherfucker who tries to hurt our Calvin.
Of course, there is the strong likelihood that we will fuck him up just like we fucked all the rest up and he will end up using his genius to swindle other crackheads out of their rocks, but damn it, we had this once before and it all ended in tears - literally.
There once was another, beautiful, perfect, better than anyone else. His name was Barry Sanders and he too was ours. And he was magical. For a while he did everything he could to make us look presentable, respectable even. With him around, we cleaned ourselves up and were able to mingle with normal people for a change. Of course, the playoffs would roll around, and we would inevitably lose our shit and be caught out back, giving handjobs for a hit off the pipe and everyone would remember what scum we really were. And that got to poor Barry after a while and he ended up walking away, broken and ashamed of it all. The poor man cried because he was ruined and destroyed by Lions Disease.
And now, miraculously, we have a chance to do it all over again. Calvin Johnson is that kind of a talent. And I am terrified that we are going to make the same mistakes over again and in a decade he will break down and walk away shaking his head while we lay slumped in the corner, beaten once again by the demons that come with being the Detroit Lions and their fans. It is terrible, it is awful, and damn it all, I really, really don't want it to happen with Calvin.
Calvin Johnson is something beautiful in a world that has been beaten ugly one too many times. It is cold, it is gray and no one has any real hope. Every Sunday is an exercise in dread and utter frustration. We didn't win one goddamn game last year, but there was always that one play in every game when Calvin Johnson would get the ball and do something absolutely magical and for a moment, all of it seemed like it would be okay. It didn't matter that we were the worst team in NFL history, it didn't matter that we were at the nadir of an era which was filled with the never ending screams of the dead and the dying, it didn't matter that we had just suffered through the most calamitous leadership since Nazi Germany. It didn't matter because we had Calvin Johnson and nobody else did.
Look, I recognize that I have gone completely insane in this post, yammering on about crackheads and handjobs for rocks and all that shit, but this time I'm not going to apologize for it. It may be maudlin nonsense and retarded gibberish but I don't care. I have to suffer through a lot as a Lions fan and if that means that I act like a damn fool when the subject of Calvin Johnson comes up, then so be it. He is amazing, he is special, and he might be the most talented player in the NFL. And he is ours.